Southern Pacific GS 4-8-4 locomotives ran from class GS -1 through GS-8 The Daylight painted locomotives were GS-2 though GS-5! The GS-4's were the double headlight versions, and the last two of this series were made with roller bearings. These were class GS-5. No. 4458 was equipped with Timken roller bearings and No. 4459 used SKF roller bearings. Both these engines ran well over one million miles during their careers, and both Timken and SKF wanted to examine the bearings on both engines when they were scrapped! Both locomotives showed minimal wear after all those miles! No. 4458 lasted in service the longest and could be found in black paint pulling the valley daylight until late 1956! Pentrex video has some wonderful DVD color movies of this engine running at high speed in those last years! GS-5 #4458 was the pinnacle of steam power on the Southern Pacific.
Specifications
Scale / Gauge
Construction
Mini. Radius
Length
Width
Height
Weight
1:32 / 45 mm
Brass & Stainless Steel
10 ft. (3 M)
43.15 in. (1096.5 mm)
4.24 in. (107.6 mm)
6.19 in. (157.2 mm)
29 lbs.
Features
Butane fired
All ball bearing axles
New style axle pump
Walschaerts in correct orientation for direction

Models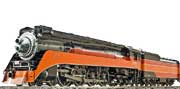 ---
AL97-005
---
SP GS-5 #4458 Daylight
Butane Fired, Live Steam
---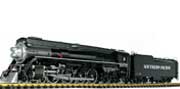 ---
AL97-007
---
SP GS-5 #4458 Black
Butane Fired, Live Steam
---